The webinar series "Innovation for SDGs: inspirational tools towards sustainability challenges" focuses on opportunities and new trends in the fields of research and innovation. The goal was to debate and advance towards the achievement of the Sustainable Development Goals (SDGs). The session was moderated by Joaquim Comas, researcher at the Catalan Institute for Water Research (ICRA) and WP2 leader of EdiCitNet project. Corinne Trommsdorff (CEO & Founder at Water Cities.org), delivered an inspiring presentation about Water-Wise Cities. Regina Gnirss (Head of Research & Development, Berliner Wasserbetriebe) presentation was focused on sustainable management of Water Cycle, with especial attention to the city of Berlin.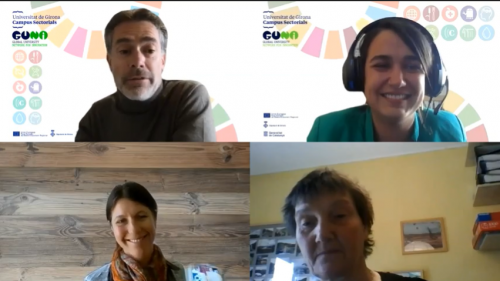 Joana Castellar as a representative of WP2 lead (ICRA) delivered a presentation entitled "(Circular) nature-based Solutions". The presentation delivered a critical discussion about what is and what is not a Nature-Based Solution (NBS), with special focus on the role of biodiversity for the conceptualization of NBS. Moreover, insights were given about the design of NBS for promoting circular management of resources in cities, especially water and food.
Finally, The EdiCitNet toolbox was presented, as an interactive space for knowledge sharing. Special attention was given to the diverse functionalities provided such as:
An interactive Catalogue in which any person can create profiles for their (edible)NBS. Such profiles showcase technical information and offers a set of interactive functions that make it a true social network for users (civil society, urban planners, researchers).
A Design and planning tool which enables users to create their own initiative(s) by giving insights about resources needed and food potential.
A Performance assessment tool which enables user to compare the performance of these initiatives in terms of sustainability, urban challenges, and ecosystem services.