Food Policy Council of Berlin

The Food Policy Council of Berlin is a broad coalition of citizens that share the vision to transform the food system of Berlin and its surrounding countryside to become more sustainable, just and democratic. As a platform it encompasses members from all sectors of the food system, e.g. consumers, farmers, urban gardeners, food sharing activists, small and medium enterprises in food processing, restaurants, cafés, scientists, representatives of associations and NGOs, teachers etc. The Food Policy Council considers itself as an advocate and mouthpiece for civil society positions and demands.
Address:
Postdamer Straße 105
10785 Berlin
Germany
Network Community Gardens Berlin

The Network Community Gardens Berlin is a self-organized activist organization, who supports the creation, protection and networking of community gardens in Berlin. It participates in political and strategic discourses concerning urban development in Berlin, especially green space, urban agriculture and environmental justice.
In the last years more and more community gardens in Berlin are at risk because of construction projects.
Until now there is no clear framework or urban concept to support and protect the gardens in the city. The Network Community Gardens Berlin wants to change this and aims for long term recognition and protection for these socially and environmentally important spaces. Therefor the network collaborates with activists from other local, national, European and international urban gardening networks as well as with activists from allotment garden organizations in Berlin.
Email Address:
Kindertagesstätte Löwenzahn

The municipal daycare center "Löwenzahn" provides all day care for 110 children aged between one and six years. The pedagogical concept is based on the work of Jean Jacques Rousseau, Maria Montessori und Jean Piaget, who focus on the child as an independent person.
We assume that the child experiences its environment in action and that its own actions make it satisfied. Children learn holistically and for this reason education and training areas are closely linked in our institution and are designed to be interrelated and interdependent in order to make it possible for the children to experience meaningful action contexts.
The stay in nature enables children to develop different sensory, motor and cognitive abilities. We would therefore like to offer our children a variety of experiences in nature. In addition to designing our own garden and taking regular trips into the forest, we also enjoy the opportunities offered by the edible city. Our children demonstrate manual skill in the construction of flower beds, they observe plant development, taste the different varieties and experience self-efficacy through the cultivation of their own food. We support the festivals of the edible city and are involved in the EdiCitNet project as participants of the living lab and organizers in the city team.
Address:
Rennweg  66
56626 Andernach
Germany
Geschwister-Scholl-Realschule plus Andernach

Geschwister-Scholl-Realschule plus is a secondary school in the city centre of Andernach. Our students are aged between 10 and 17 years and come from Andernach itself or surrounding villages and towns. They aim to achieve a graduation which enables them either for a vocational training or a higher school education.
True to our name – the Scholl siblings were a resistance group against the Nazis – civic courage and tolerance play an important part in our school life. As a Schule ohne Rassismus – Schule mit Courage = school without racism – school with courage we had an event Kochen gegen Rassismus = cooking against racism, where our students prepared typical dishes from the countries where their families had come from. This food was served to other students and to visitors of an edible-city-festival in Andernach.
Other focal points of our school are sports like athletics and football, music like instrumental lessons and trashdrumming as well as languages like French and bilingual teaching in English.
Although we are an inner city school we have a small school garden and try to create a greener school yard. In cooperation with the city of Andernach a group of our students recently built several wooden raised beds which will be planted with flowers and vegetables in spring.
Address:
Salentinstraße 12
56626 Andernach
Germany
Letchworth Garden City Heritage Foundation – City Council

Letchworth Garden City Heritage Foundation is the successor to First Garden City Limited, formed by Ebenezer Howard to develop the world's first garden city in 1903. 
Today the Foundation is a community benefit society, acting as a place based endowed charitable organisation that works to maintain and enhance the world's first Garden City, managing a local property portfolio to generate income, to re-invest back into the community and landscape of Letchworth Garden City through a series of charitable commitments.  This means that the greater proportion of Letchworth and the surrounding farmland sits within the Foundation's freehold. 
The Foundation's property portfolio held in Letchworth and other assets are in excess of £170 million, with an annual income is in circa £12 million, the surplus of which (£7.7 million in 2018) is reinvested through various charitable activities and grants.   This includes a range of services, such as a cinema, theatre, family/educational farm, day hospital, tourist information, museum services, allotments and rural/environmental improvements, as well as a grants programme for local groups and individuals.  The distribution of this charitable reinvestment is determined by a community governance structure that is formed of local volunteers and a Board of Trustees that includes a District and County Councillor.
Address:
Broadway Letchworth SG6
3BF Great Britain

Stadt macht satt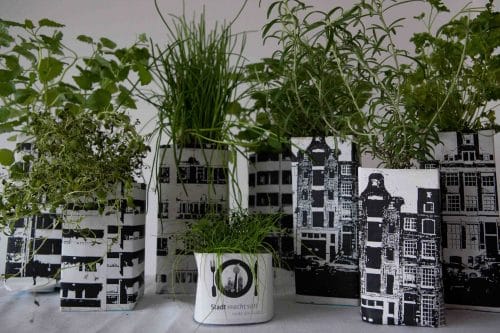 "Stadt macht satt" (Harvest the City) is an initiative of the artist Anja Fiedler. "Harvest the city" gathers and develops ideas on how we can harvest delicious things in the city and how we can produce food ourselves – even in the smallest of spaces.; ; Anja Fiedler developed different prototypes of vertical gardening (window garden, salad and vegetable trees), different interactive social sculpture events to activate people to rethink our food system and find their own way to change it.; ; With her other initiative "Apfelschätze" (Apple treasures) (www.apfelschaetze.de) she rescues tons of apples every years from rotting.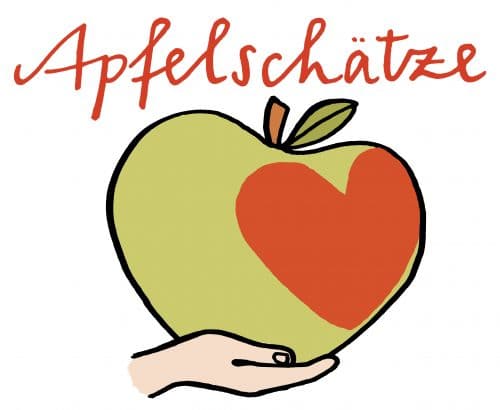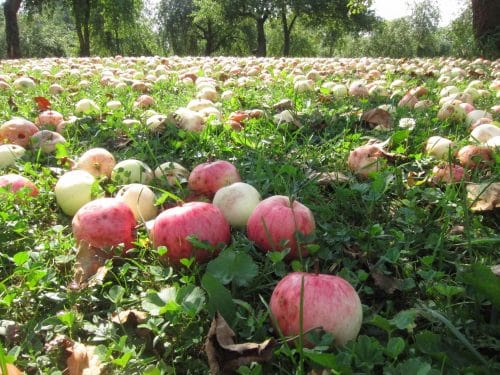 Anja Fiedler believes that own FARMING, GROWING, HARVESTING and COOKING, we townspeople come closer to nature and our food. This not only makes our cities greener, but also our actions. The UNESCO has awarded "Stadt macht satt" and "Apfelschätze" as an exemplary project to teach children and adults how to think and act sustainably.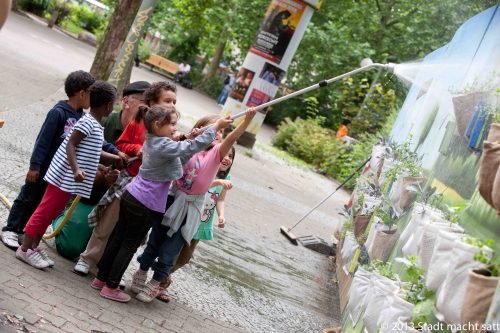 Food is one of the most effective ways to solve some of our main future problems like feeding the growing world population, climate change, preserving soil and water,etc.  More than 50 % of the world population lives in cities, so edible city can help solve some of the supply questions, but also educate people and make them rethink. I made research to other edible cities and would love to have more connections and exchange.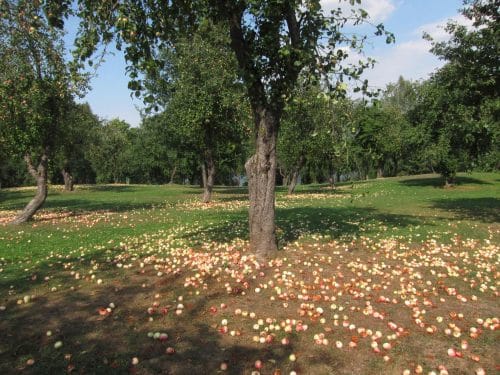 My approach as an artist of social sculptures helps me to develop low-threshold, but emotional actions that reach very different people.  Within the project people reflect their own possibilities to change things in there everyday life and most of them put it in their practice. I also give lectures and people replicate my projects with great success.
I am also connected with urban gardeners in Berlin and in Toronto. Some of the achievements of this initiative are  providing to 50-70% of the people the chance to pick their own apple supply continue to do this in the following years. Children eat and cook fresh food and make their parents rescue food themselves. There is also Skinfold – where I cook together with children and adults different fresh food and make at the same time all sorts of cosmetics. People also learn how buy differently afterwards. No microplastic, no palm oil. Eat better.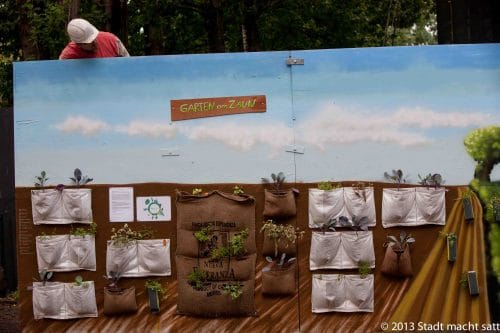 kontakt [at] anja-fiedler [dot] de
Address:
Habersaathstr. 39
10115 Berlin
Germany
Forum Stadtgärtnern
Gardens belong to Berlin. They are greening and refreshing the city, produce healthy food, protect and create fertile soils, are spaces for socializing, sharing, learning and community building. The Berlin allotment gardens startet with this more than a hundred years ago and are as popular as ever. Community gardens are rather young, but their number is crowing. Both types of urban gardens get more and more under pressure because of planned constructions. The Forum Stadtgärtnern is an initiative where community gardening and allotment garden activists gather their creativity, knowledge and ressources in order to protect and support the diversity of urban gardens in Berlin. The group is organizing debates, addressing papers to politicians and participating in demonstrations and actions in favour to protect urban green, a sustainable urban development and concerning climate change.
Email Address
St. Thomas Realschule + Andernach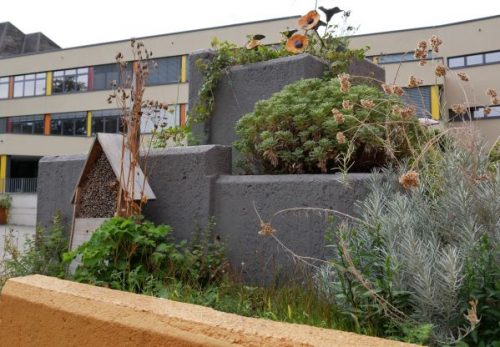 We are a general education school and part of a school center in the heart of the city of Andernach, which represents in the network of edible city solutions as the main focus environmental education among children and young people. Our school is attended by students from grades 5 to 10. We are a heterogeneous, pluralistic school community.
Through daily experiences with heterogeneity, our students have acquired the awareness that education and intercultural action are prerequisites for their global future. We promote the European identity of our students and actively shape communication of young people in Europe.
We implement cultural education and environmental education among other things in a European cooperation project: "Garden of Cultures in Europe". In this framework we cooperate with a school in Estonia (Käina), Greece (Larissa) and Spain (Bailen). The European project was inspired by EdiCitNet and is funded by Erasmus plus.
The European project was inspired by EdiCitNet. Our schoolgarden will include edible plants. We participate in actions of the community garden of the city of Andernach. We spread the idea of edible city solutions in municipalities of Estonia, Spain and Greece.  Likewise we have been partaking in the Erasmus + (Project – Garden of cultures in Europe).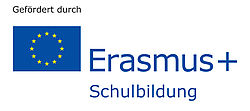 info [at] rsplus-st-thomas [dot] de
Address:
Salentinstraße 1a
56626, Andernach
Germany