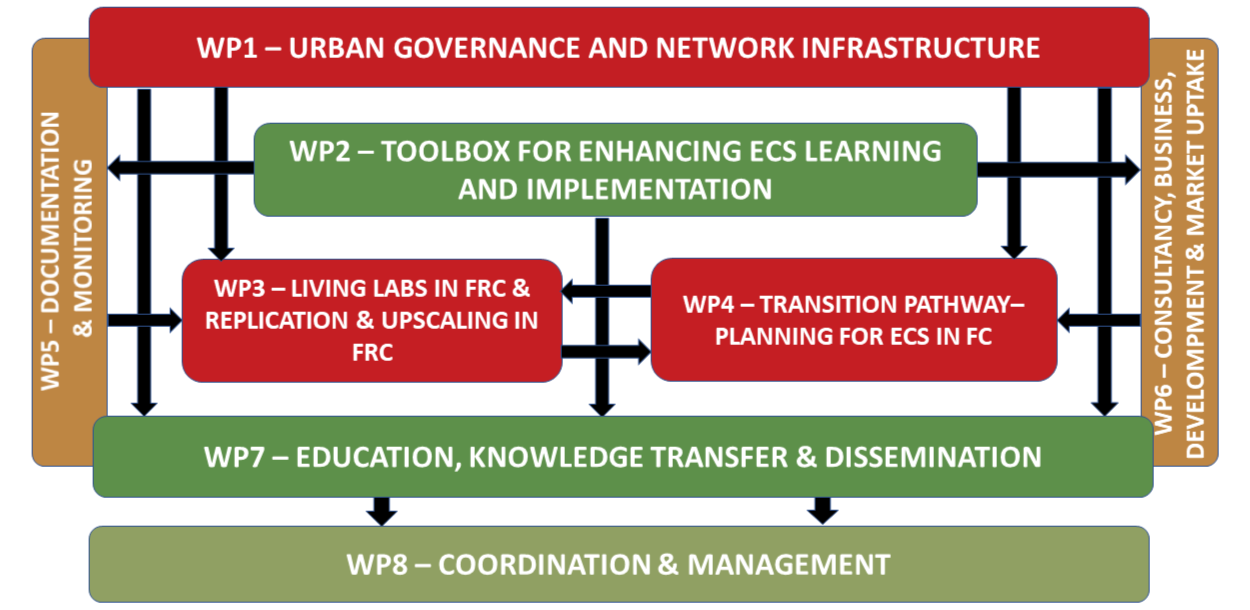 WP1 - Urban Governance and Network Infrastructure
WP1 is in charge of developing and managing the EdiCitNet Network-of-Networks including the building of EdiCitNet City Teams.
WP2 - Toolbox for Enhancing Edible City Solutions (ECS) Learning and Interpretation
WP2 will develop the project knowledge base and decision support toolbox (an online ECS catalogue, including the data base and guidelines, and a serious game).
WP3 - Living Labs in Front-Runner Cities (FRC) & Replication & Up scaling in FRC
WP3 will demonstrate Edible City Solutions and their up-scaling in Living Labs of Front-Runner Cities.
WP4 - Transition Pathway-Planning for Edible City Solutions in Follower Cities (FC)
WP4 will cover the Edible City Solutions Transition Pathway planning in Follower Cities.
WP5 - Documentation & Monitoring
WP5 will cover neutral, evidence-based monitoring and documentation.
WP6 - Consultancy, Business Development & Market Uptake
WP6 will provide the consulting service to Follower Cities, support the development of Edible City Solutions business models and their market uptake.
WP7 - Education, Knowledge Transfer & Dissemination
WP7 will cover all dissemination activities of the project, including support to the knowledge transfer and educational measures.
WP8 - Coordination & Management
WP8 deals with the project coordination and management.