Rotterdam is buzzing with activity.
More and more of the two hundred green (food) initiatives work together in a self-designed bottom-up democratic process, to further develop the network and to cooperatively develop organizational power.
Preceded by an action-oriented 'self-research' in 2021, the initiatives have now come together in several network meetings. In these meetings it has been democratically decided to form four workgroups. Each workgroup consists of only initiators of green (food) initiatives. One workgroup is mapping the many different values of green (food) initiatives and is finding ways to make these values visible. Another workgroup is organizing methods for sharing knowledge and expertise amongst initiatives. A third is meant to set up a structural lobby for green (food)initiatives. And a fourth is working towards an umbrella organization.
With all these different initiatives and this open bottom-up process, a lot of effort has been put into the design of the whole process and organization. This process itself can already be seen as one of the very important results of the Living Lab. And it pays off. The workgroups are now taking up speed. A great planning scheme has been worked out by the coördination team.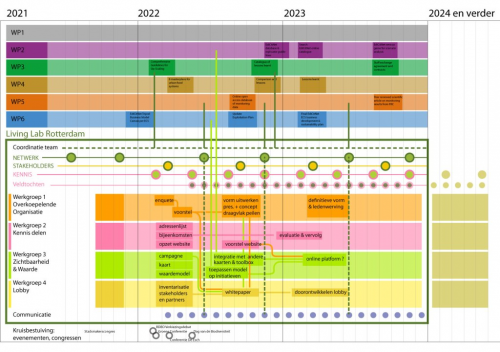 The expectation is that in one and half year still ahead, many practical results will be brought forth: a model of mapping values, a map of green (food)initiatives, an interactive website, an umbrella organization, field excursions between initiatives, regular stakeholdermeetings, financial stability, and perhaps even a national park status for the city Rotterdam. These are some of the ambitions of the different workgroups / stakeholders.
Rotterdam is ready for a green revolution next level.