Most Innovative Individual Action

Category
Most Innovative
Individual Action
Type of initiative
Community garden
If you're thinking about starting an initiative like this, then please just do it. It's something that's for everyone – it doesn't matter who you are, how much you know, your age, anything. It creates so much growth in all areas, especially in the heart.
The winner of Most Innovative Individual Action (Initiative) at the EdiCitNet Awards 2021 is Mellomrommet, a community-driven urban garden initiative in Oslo, Norway.
Located in Stovner, one of Oslo's lowest-income neighbourhoods, with Mellomrommet a group of passionate volunteers has create a flourishing urban garden among concrete apartment blocks – a haven for wildlife, fresh produce for families and a source of joy for people of all ages. Everything is created by volunteers, often using recycled materials. Everyone is welcome – economic status, age, language, mental or physical ability are not important.
All of the harvest is given back to the community for free and the area is open 24-7.
EdiCitNet talked to volunteer project coordinator, Kristine Tveit, about the initiative and the impact it has had on her community.
Kristine, thanks a lot for joining us and congratulations on your win. Your initiative sounds incredible. But maybe it's best if you tell us a little bit about it. What is Mellomrommet and what does it stand for?
Thank you. Mellomrommet is a Norwegian word that means "the space", because our garden is literally located in the space between two big apartment blocks. It all started with funding we received from the City of Oslo. We didn't have any experience at all, but we decided when we got the funding that we'd try to make the most of that "dead" space.
We started with next to nothing, just a few packets of seeds. I volunteered to coordinate the project and we asked around for more volunteers from the neighbourhood. There are 190 flats. At the start we were just five people who started building it up, going step by step, starting with just a few flower beds. Now we have expanded, we have three greenhouses, lots of vegetables, all kinds of different things growing. And we have also focused a lot on how to make best use of the space that we have, experimenting a lot with innovative ways of growing.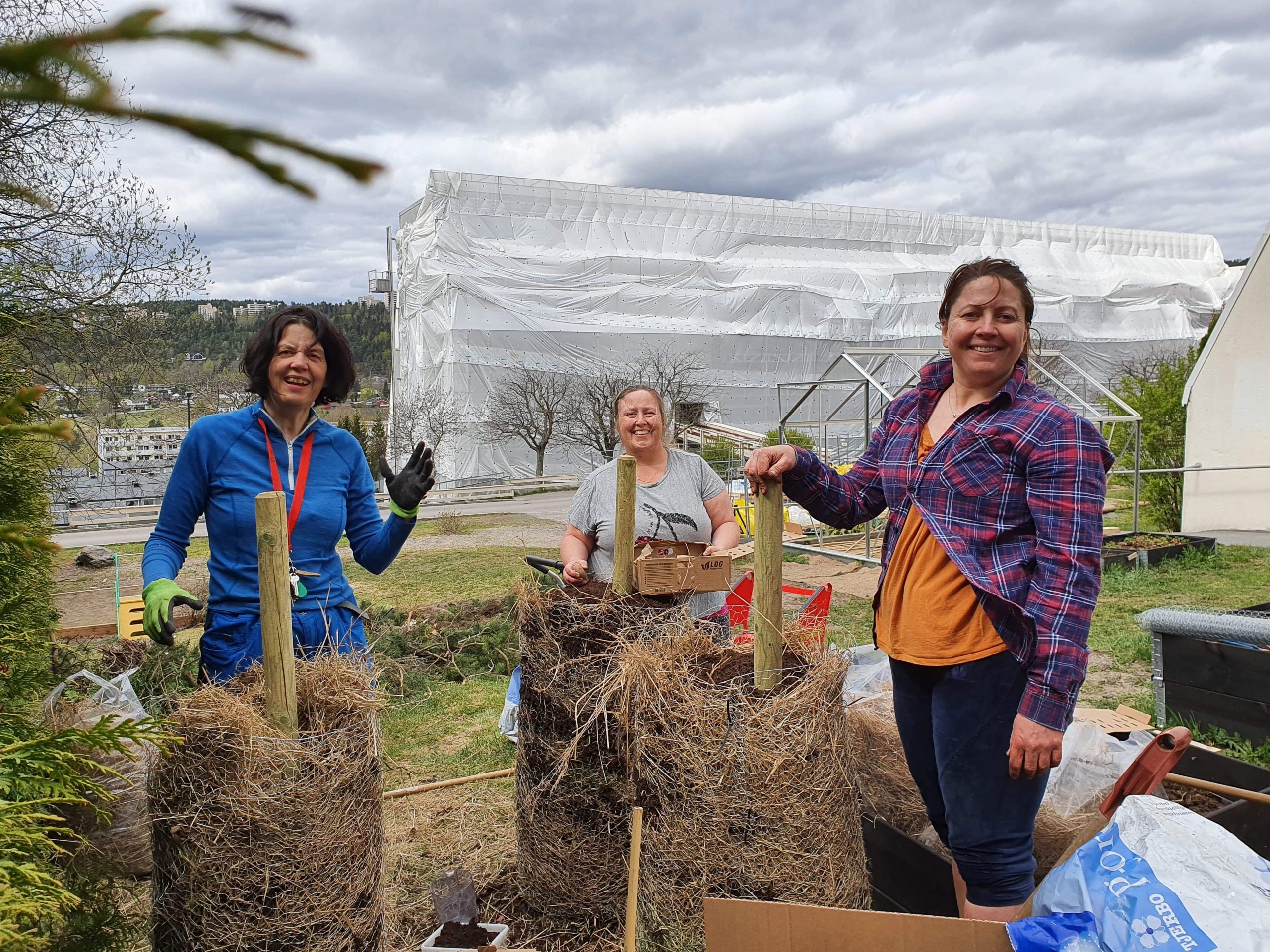 It sounds like you have built a really big community that keeps on growing. And you're working with volunteers, which is not easy because they keep changing. How do you deal with that? How do you keep the enthusiasm and the engagement going?
The good thing is that since we are engaging the community where we live and it's open for everyone in the area, there are not that many people moving in and out, so the basis stays the same. The main challenge was the pandemic of course, where we weren't allowed to meet. We had to postpone some of our bigger projects. But I think one of our main strengths is that we are open to everyone all the time and people see the garden growing, so even people who can't help still support us.
We have two- and three-year-olds who want to come with their siblings to help, and we also have elderly people who are not able to help, but they stop by, they say, "Oh, I love going for a walk here". That engagement just keeps growing because everyone can see the space and they know that it belongs to our community.
It's impressive, especially in the context of the pandemic that you managed to keep it going and growing. What do you consider your biggest achievement? What are you most proud of?
Well, we won this award, of course, and we also received other awards, but I think that what we should be most proud of is how this community has changed for so many people.
I used to go to work early in the morning and I didn't see anyone. Then I came home, went into my flat, stayed there and if I saw my neighbours I said hello but that was it. And now whenever I go outside, people talk to each other, we work together. When I go past the kids, they shout "Kristine, how are you? Are you going to work in the garden and can we join you?" Everyone feels like the garden is theirs and they want to participate as best they can.
There are probably lots of people who are curious about how to start such an initiative. Do you have any advice to give them based on your experience?
I think my best advice is to just say go for it, just try. As I said, we didn't have much knowledge when we started. We had some funding of course, which was very helpful, but we just decided to go for it.
So if you want to grow melons, try to grow melons. And if it doesn't work okay, you have a nice plant and hopefully some nice flowers on the way. Take it step by step. Don't think large scale, think small scale. Just do one thing at a time. If you want to to build a teepee for beans, okay, then you do that this week and next week you can do with something else. By taking small steps, it expands very quickly. If we had hired someone to guide us, we wouldn't have been able to do this – we'd still be talking about it!
Another thing is that whenever people come with ideas, it's important to listen to them. When the kids say we want sunflowers, then we grow sunflowers. If somebody says they want to try building a labyrinth, then okay, we'll do that. Whatever people suggest, that's what we do.
Where do you get the resources to keep your project running? Do you have external funding that's supporting you?
Yes, we've been very very lucky. I think it's because urban agricultural has great standing in Norway, we've been able to receive funding from several sources: from the city of Oslo, from Stovner, this part of Oslo, Sparebank Stiftelsen, which is a foundation and from OBOS (Oslo og omegn Bolig-og Sparelag), which is a commercial partner for housing in Oslo and the surrounding area and also the Oslo Urban Renewal Program, which is an initiative for this part of Oslo. So many different sources for funding, which has been great.
It sounds like there's a very favourable climate for growing this type of initiative in Oslo, so that's great. Do you have any last words or tips to share with us?
If you're thinking about starting an initiative like this, then please just do it. It's something that's for everyone – it doesn't matter who you are, how much you know, your age, anything. We have one boy who comes here, biking for 10 minutes just to help with watering. We have ladies who are almost 90 years old who come by just to look at the roses and pinch off the ones that have died. So it's for absolutely everyone. And it creates so much growth in all areas, especially in the heart.
Thank you. That's a beautiful way to end our talk. Congratulations again and thank you for being here and sharing your insights.
Feeling inspired?
Download the EdiCitNet factsheet on Mellomrommet for more information, photos and contact details.
Check out the other EdiCitNet Awards winners for 2021
ELIGIBILITY
Do you want to apply for an EdiCitNet Award? Applications for the EdiCitNet Awards 2022 will open soon! Sign up for the EdiCitNet newsletter to be updated as soon as the application process is open.
The EdiCitNet Awards are open to individuals, groups and organisations based in all of EdiCitNet's partner cities.
We welcome all applications from diverse professional, academic, and cultural backgrounds, regardless of gender, religion, race, ethnicity, sexual orientation or ability. Find more information about the EdiCitNet Awards and the full Terms & Conditions of entry by clicking here.
 If you have any other questions, or for more information, please email
us at edicitnet-awards [at] eurtd [dot] com